Toba City
Toba City, located in the northern area of the Shima Peninsula at the eastern edge of Mie Prefecture facing both Ise Bay and the Kumanonada Sea of the Pacific Ocean, consists of the peninsular area and four inhabited islands, namely, Kamishima, Toshijima, Sugashima and Sakatejima Islands. It has an area of 107.34 square meters, more than 70% of which is covered by forests. Only the limited areas along the coast are flat while many other parts of the city are rather filled with steep mountains, which turn pastel pink in the spring because of blooming cherry blossoms, vivid green in the summer, and then in bright red in the autumn due to beautiful colored leaves. Besides, the whole area of Toba City, blessed also with scenic ria coast, running right by mountains, has been designated as part of Ise-Shima National Park since 1946. The coastal areas of the city have been endowed with good fishing grounds since ancient times, where fishing people, including female divers called Ama, have caught fish in unique ways for over 2,000 years. Not only "fresh seafood," such as abalone and lobster, from those fishing grounds but also relaxing Onsen (hot springs) with high-quality water are fully enjoyable at accommodation facilities in the city.
Toba Bay became the stage for the world's first pearl farming by Kokichi Mikimoto, the founder of "MIKIMOTO" known worldwide as a pearl producer and seller. "Mikimoto Pearl Island," a small island in the bay, offers visitors a good opportunity to learn about his major achievements as well as the history of pearls. In Toba City, you can enjoy yourself also at many other amazing tourist spots, including large-scale aquariums and sightseeing boats.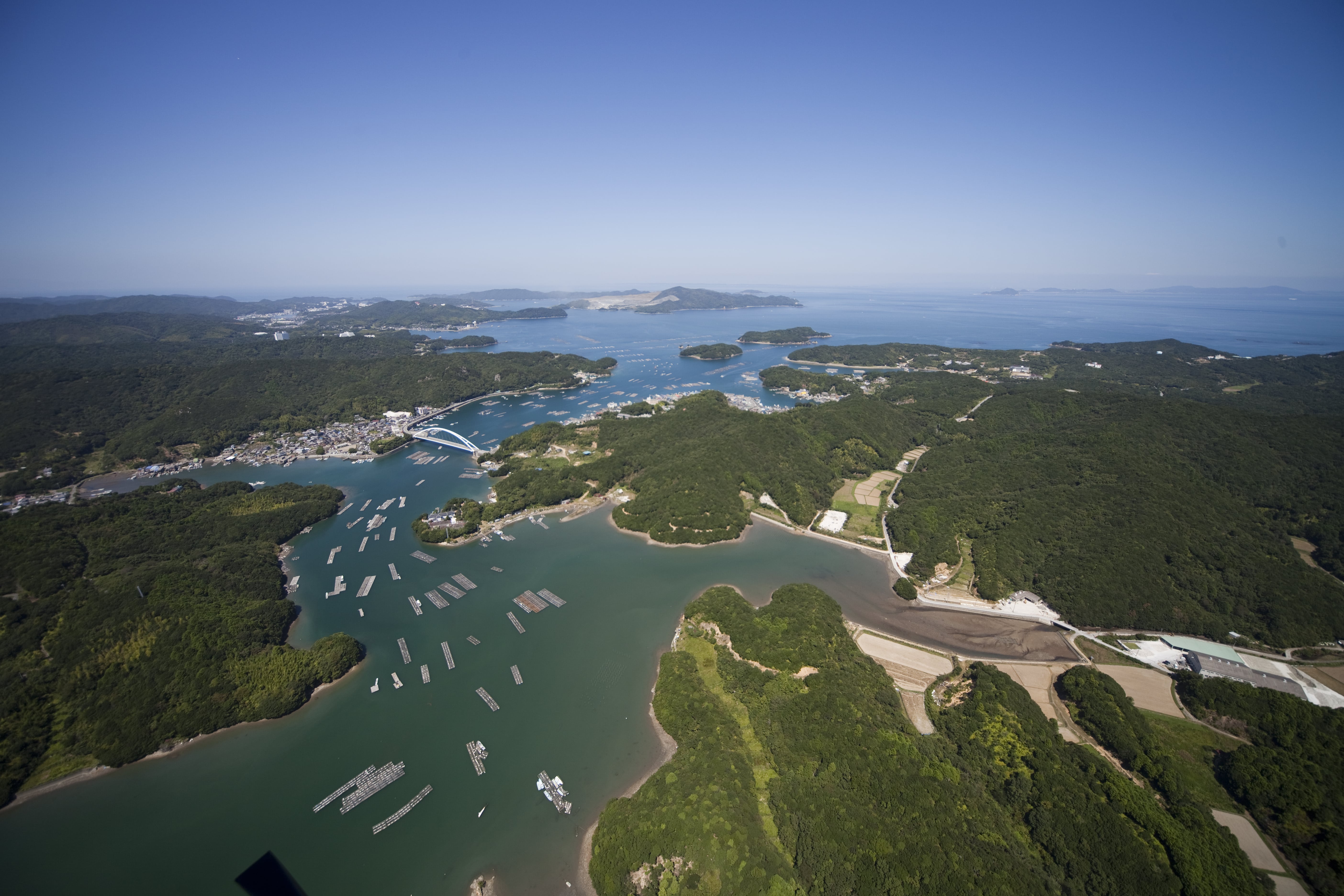 Since May 20, 2019, "female divers called Ama and related sites in Toba and Shima Cities" have been registered on the "Japan Heritage List" by the Agency for Cultural Affairs.
Ama are skillful fisherwomen who dive into the sea without using oxygen tanks to catch seaweed and abalones on the seabed by hand. A great number of abalone shells and abalone scrapers made from deer horns have been discovered at the site of the Shirahama Ruins in Uramura, Toba City, which are presumed to have been used by ancient people, probably Ama, over 3,000 years ago. The Manyoshu (literally "Collection of Ten Thousand Leaves"), known as the oldest extant collection of Japanese poetry compiled roughly between AD 759 and 780, also contains 82 poems about Ama.
Toba City is part of Ise-Shima National Park, which is one of Japan's 34 national parks located 150 km southeast of Kyoto. The park itself consists of a vast "sacred area" with 5,500 hectares of forest land, where Ise-Jingu, a very important Shinto shrine to enshrine the ancestral goddess of the Japanese Imperial Family, is located as a symbol of Japan, the "Country of the Rising Sun." This area, blessed with mountains right by the sea and a number of islands dotted off the coast, is rich in minerals, which are flown to the sea and then contribute to the increase of marine creatures on the seabed. Abalones caught by Ama have been cherished as official offerings to Ise Jingu since ancient times.
Ama, literally "marine women," have handed down their traditions through generations and lived in Toba and its neighboring areas for over 2,000 years. They repeatedly dive into the seawater with a temperature of 16 degrees Celsius without breathing to find and catch seaweed and sea urchins as well as precious abalones on the rocky seabed.
Seaweed and shellfish caught by Ama are shipped to accommodation facilities in this area and large cities around to be used as fresh and valuable ingredients.
Ishigami-san (sacred spot)
Ishigami-san, which forms a part of Ise-Shima National Park, one of the sacred areas of Japan, the Country of the "Rising Sun," is a quiet Shinto shrine located on the grounds of Shinmei-jinja Shrine in the Osatsu area, Toba City, where Tamayorihime-no-Mikoto, a goddess believed to protect women, has been enshrined. Female divers, namely Ama, pray to the goddess of this shrine for their safety before diving into the sea where they are always exposed to possible dangers. Since olden times, Ishigami-san, the protector of Ama, has been famous for its mystical power to "help every woman realize one of her wishes" and therefore visited by many people from all over Japan. The symbols called "Doman" and "Seman," engraved in many stones located along the approach to this shrine as well as everywhere else on its grounds, are also drawn on the traditional diving suits of Ama as talismans to protect them against evil in the sea.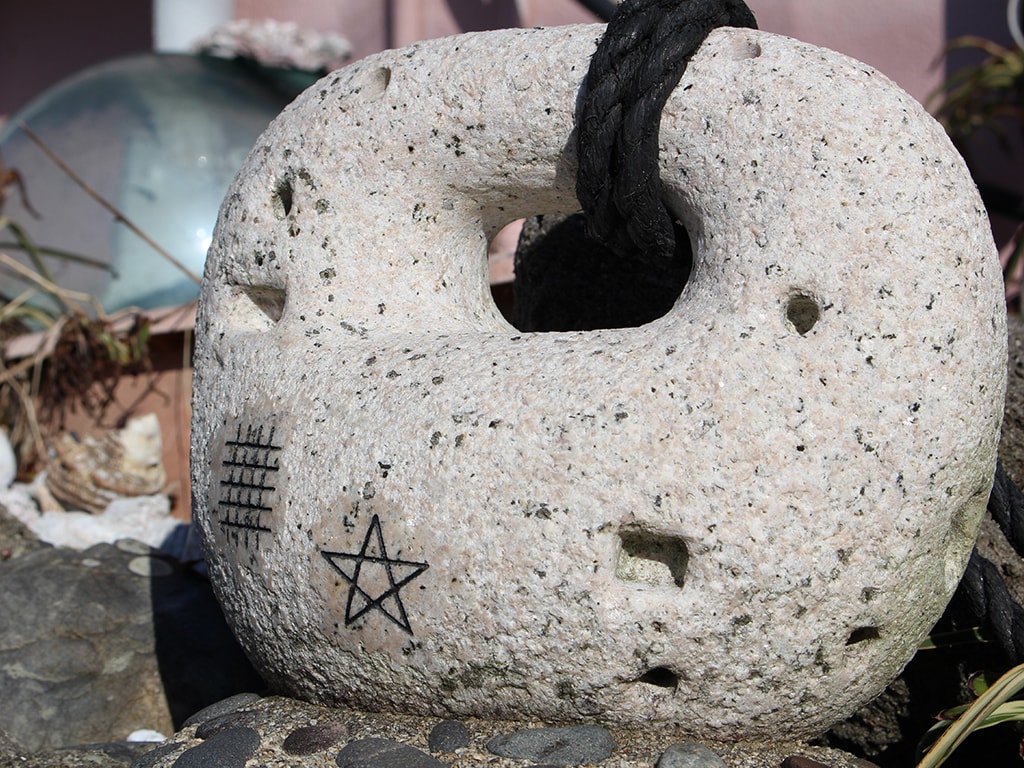 Ise no umi no ama no shimatsu ga awabitama torite nochi mo ka koi no shigekemu
(Poem 1322, Volume 7, Manyoshu, composed by an unknown poet)
The old Japanese poem shown above can be literally translated into English like this: "To me, abalone pearls caught by Ama in the sea of Ise are still attractive and precious no matter how long it has been since the day of their obtainment." Actually, this poem was composed to imply the poet's "unchanging love" to his girlfriend who he has been going steady with.
It is said that Ama used to find natural abalone and oyster pearls from time to time and dedicate them to Ise Jingu since long before the beginning of pearl farming. The composer of this poem likened precious awabitama (abalone pearls) to her girlfriend in order to express his "unchanging strong love" to her.
The Manyoshu, compiled in ancient times, contains the mentioned poem about abalones caught by Ama and their natural "pearls" found by chance. Kokichi Mikimoto, the founder of MIKIMOTO (also called the "Pearl King"), was born in Toba City, where he devoted his whole life to pearl farming in such a rich natural environment. On a small island in Toba Bay, which is known as "Mikimoto Pearl Island" today, he succeeded in pearl farming for the first time in the world in 1893 and then went down in history: pearl farming had been impossible by anybody until his success. In fact, his successful pearl faming was attributed also to the great help of Ama, who dove into the sea until reaching its bottom to catch pearl oysters and then put them back there after inserting pearl nuclei into them. Besides, they also protected pearl oysters from natural disasters like typhoons by quickly transferring them to a safer place. It is generally believed that pearl faming was never possible without Ama.
On "Mikimoto Pearl Island" today, you can enjoy watching diving performances by Ama: on the island, you can also get information about the major events of Kokichi Mikimoto's life and see a replica of his first house in his life and a display of his belongings at the "Kokichi Mikimoto Memorial Hall," learn about the world history of pearls at the "Pearl Museum," and then enjoy shopping for MIKIMOTO's authentic pearl products and Mikimoto Pearl Island's original pearl products.
Food and
Onsen
Many hotels and ryokan (traditional Japanese-style inns) with beautiful ocean views are dotted throughout Toba City. At dinner, their guests can enjoy fresh seafood caught on the day by fisherpeople including Ama. Some of those accommodation facilities even offer amazing Onsen (hot spring) baths to their guests, where they can fully relax and enjoy a feeling of happiness with the hot spring water as well as scenic ocean views.
Access
How to get there
Toba Tourist Information Center
1-8-13 Toba city ,Mie prefecture,Japan
Tel: 0599-25-2844
Opening hours: 9:00-17:30

Transportation Access
●About 4 hours by train from Tokyo via Nagoya
●About 2 hours by train from Osaka,Kyoto